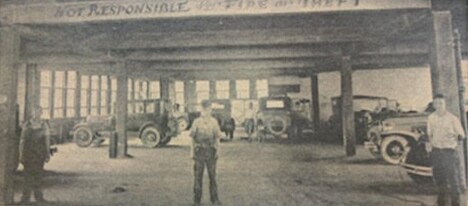 The original "Fireproof" garage. 
75 Years of selling cars
Success is about hiring and retaining good employees, said Frank Goodwin.
By Rachel Ganong
Times record staff (www.timesrecord.com) Tuesday august 28, 2007
Goodwin Chevrolet dealership on Pleasant street looked much like it does most days Friday, with rows of gleaming trucks and cars lining the paved lot in front of the dealership doors. 
But inside, where sales representatives chatted about a customer who bought two vehicles and the customer who got away, the dealership marking a milestone unseen by most: it's 75th birthday. 
"It's a great milestone to have a dealership with us for so long," said Stacy Glynn, General Motors' district sales manager for the northeast, adding that Goodwin is the fourth oldest General Motors dealership in Maine. 
In honor of the occasion, Frank Goodwin, the 69-year-old, second-generation patriarch of the family-owned sales group, took a crystal award from General Motors representatives. Before his employees celebrated with lunch, however, he reflected on the company's longevity. 
"It's all about people -- hiring and retaining good people," he said. 
The person it started with was his father Joseph M. Goodwin, who opened a garage in the 1920's on the corner of School and Maine streets where the Tontine Mall sits now. 
In 1937 Joseph bought a Chevrolet franchise and held on to it during the rest of the Depression era. "He wanted me to come into the business after high school, Frank said of his father. "My mother said, 'No way. Those boys are going to college,'" he remembered. 
Goodwin's brother didn't follow their father into the car dealership business, but Goodwin took over it's management the summer he graduated from Bowdoin College with a degree in economics in 1960. 
"The automobile business is like the real estate business: when it's good, it's very good," he said. 
Running the dealership has been "a good ride" Goodwin later told employees. He expanded the business from one to five dealerships with more than 160 employees. His flagship Brunswick store, which he moved to outer Pleasant Street in 1975, employs 60 to 65 of those and hit its peak year with the sale of 1,100 vehicles in 1986. 
What it will be like in the future as dealers and manufacturers face stiffer competition, Goodwin says, remains to be seen or perhaps decided by the next generation.
"I have three children," he said "I think they will be involved in it." One of his sons, Robert Goodwin, already manages the company's Volvo dealership in Topsham; the others may continue family ownership of the company. 
"My kids, like me, are in the business because we have the business," he said. "It's a huge commitment, I used to work 7 days a week and I probably sacrificed some things."
But 75 years later, the dealership still stands, as part of the Goodwin family and the community it contributes to through little league and Bowdoin College sports sponsorship. "I've always looked at myself as a good businessman rather than an automobile salesman," he said.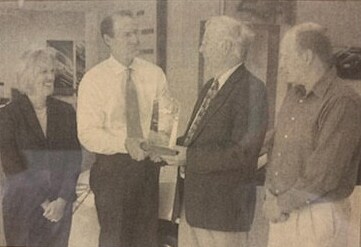 GENERAL MOTORS REPRESENTATIVES
Jill Malloy and Dave Klemm chat with Frank Goodwin and his son Roberts. Goodwin Chevrolet celebrated its 75th anniversary at the Pleasant Street dealership on Friday.