Frank R Goodwin Now manager of Goodwin Chevrolet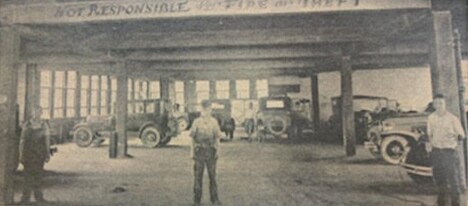 The original garage ---
The original fireproof garage on school street.
The Brunswick Record
Brunswick, Maine, July 21 1960
Active management of Goodwin Chevrolet on School St in Brunswick has been taken over by Frank R Goodwin, it was announced this week, by Joseph M Goodwin, founder of the company and the father of the new manager.
Joseph Goodwin, who started the business 35 years ago, will continue his association with the company on a less active basis than in the past
Frank Goodwin is a graduate of Brunswick High School in 1956 and this year of Bowdoin College, where he majored in economics. He has worked with his father the past five or six summers, familiarizing himself with every phase of the business except the actual mechanical work done in the garage. 
New Policies
With his father's help, the new general manager is beginning to institute new policies and improvements designed to keep Goodwin Chevrolet in the forefront among automobile dealers in the Brunswick area. 
"Joe" Goodwin started the business in 1925 with Harry E. Gustin, his brother-in-law, as a partner. Gustin died the following year. 
Original Building
Built on the site of a garage which had been destroyed by fire, the original building fronted on Maine St. and was called the Brunswick Fireproof Garage. In that day the heavy oil that was used in cars made them almost impossible to start after being left outside overnight during the winter, so the business was founded as a storage garage. It had capacity of about 100 cars on the main floor and in the basement, with a turntable for convenience in parking cars. 
Within two or three years, however, the light winter oils began to appear on the market and it was not as important to store cars in heated garages. 
Obtained Franchise in '32
In 1932, Goodwin obtained the Chevrolet franchise, which had been given up by the previous dealer because of business difficulties in the Depression. Goodwin was able to keep the business going during the lean years, however, and prospered when the country's economy again swung upward. In 1955 he added a new section to the old building, doubling the ground-floor space and putting the front on School St. The whole structure is an L-shaped building running off both Maine and School Streets. 
In taking over the management Frank Goodwin plans to make as effective as possible all phases of the business, new and used car sales and repair service.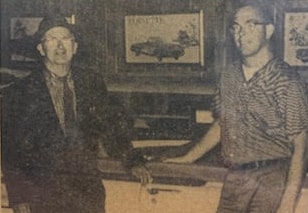 Father and son team ---
Joseph M Goodwin, founder of Goodwin Chevrolet in Brunswick, poses with his son, Frank R Goodwin, the new manager of the business. "Joe" Goodwin will continue to be associated with the company but in a less active capacity than in the past.