Goodwin Chevrolet Celebrates 80th anniversary
By Elisa Hawkes 
Coastal Journal Staff
BRUNSWICK -- Owner Frank Goodwin will tell you there have been ups and downs over the past 80 years at Goodwin Chevrolet in Brunswick, but the company has grown and prospered, thanks to hard work, ingenuity, a great staff, and good customers. 
Frank took over management of the company two days after he graduated from Bowdoin College in 1960. His father went into semi-retirement and as Goodwin puts it, handed him the keys. 
Joseph M Goodwin Sr, Franks father began the business in downtown Brunswick in the 1920's. It was a general car repair and storage business then. He also built the Tontine Mall, in 1927. As times changed, Joseph decided to move into new areas, and on August 14, 1932, he signed his General Motors franchise agreement. The Goodwin dealership was born. 
Goodwin said the business has persevered through some rough times. They survived the Great Depression. In the 1940s, with the advent of World War II, GM ceased manufacturing automobiles. The moratorium on auto manufacture lasted from 1941 to 1946, according to Goodwin. He said they sold used cars during that time giving preference to trade-ins. 
In 1961, soon after he took over as general manager, Goodwin was called away to serve six months of military reserve duty. Again, he said the business survived through a difficult period. 
There were good times too, he said. After the Second World War, Goodwin said, people were ready to buy new cars after not having had any available for so long. He said people were on waiting lists for new automobiles. 
While still on Maine Street, Joseph Goodwin had built the Brunswick Fireproof Garage. It was, according to Goodwin, built  completely of cement and steel. People said it could not be burned down. He said there was a large rotating disk in the floor, so cars would not have to be backed out of the garage, but could be turned and driven out facing forward. Goodwin reminisced about himself and his brother playing on the disk, going in circles. 
Goodwin said the business occupied three small locations simultaneously at one time. He said paying three sets of taxes and insurance was difficult on the business. At this time, Goodwin decided to replace all three locations with one property, and purchased the current site on Pleasant Street (Rt 1, Brunswick). He said they opened the new facility in May 1975. Over the years, Goodwin added seven contiguous properties to the dealership, and Goodwin Chevrolet now sits on eight acres of land. 
According to Goodwin, there have been five Chevy dealers within an eight-mile radius at one point. 
"There were Chevy dealers in Bath, Lisbon Center, Bowdoinham, Freeport, five altogether," Goodwin said. "We were the only survivor. Later they enacted the 10-mile rule, which is why the Chevy dealership opened in Woolwich years ago, not Bath."
Goodwin said the business went from selling 100 cars the first year for a return of $1 million to selling $25 to $30 million per year and about 600 cars annually at present. He ascribes his success to hard work and good staff. 
"I've said it before but it bears repeating," Goodwin said. "Success is attained through hiring good people and then retaining them."
Goodwin says the business has now grown to include five dealerships, real estate development, and other interests. There are now 50 employees, up from the original 15. Goodwin thinks his dad would be proud. 
Goodwin's son Robert is the manager of the Topsham Volvo dealership, and his daughter Katherine works part-time in Brunswick, when not taking care of her five children. Goodwin's son Christopher is an attorney. Goodwin has 10 grandchildren ranging in age from 12 to 2 and a half. 
At just under 75 years of age, Goodwin still plays basketball three times a week at Bowdoin. He exercises regularly and doesn't plan on retiring anytime soon. 
"I started playing basketball about 40 years ago,' Goodwin said. "A friend of mine said he needed to get into shape, so we went to the gym at Bowdoin."
Goodwin, a graduate of Bowdoin, said Professor Chris Potholm saw him and his friend in the gym and asked if they would like to play ball. He said they have been playing on Mondays, Wednesdays, and Fridays at noon ever since. 
The staff at Goodwin Chevrolet is excited about the upcoming 80th anniversary. They have planned events to celebrate, and to honor the man they are glad to have in charge.  Goodwin's will be cooking lunch beginning at 11 am on August 9, 10, 11, and 13, for their customers -- barbecued hot dogs and hamburgers. 
There will also be a "by invitation only" dinner and roast on August 14 to Celebrate Frank Goodwin's time as head of the company. 
For more information about Goodwin Chevrolet visit
www.goodwinchevyme.com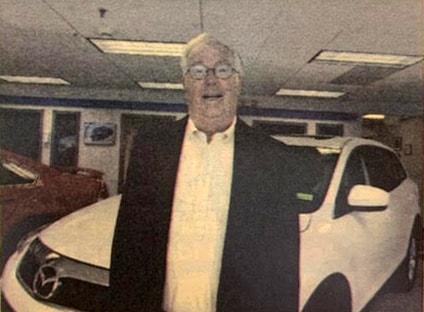 Frank Goodwin celebrating 80 years of successful business.