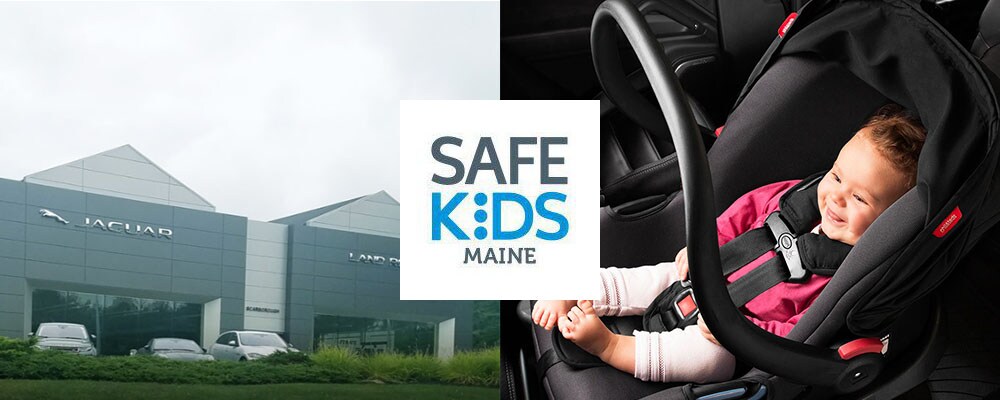 Jaguar Scarborough Presents "Safe Kids Maine" Car Seat Safety Checks
Jaguar Scarborough is happy to offer a clean, warm and dry space on the first Saturday of every month to host "Safe Kids Maine" and their car seat safety check. This is a service that is free to the public and very recommended for both first time parents as well as those seasoned with car seats. You never know what you'll learn and you can meet great people in the process.Learn more below!

Get the schedule and check in on our Facebook page!
Safe Kids Maine
Installing a car seat can be a challenge, but it's important to get the installation right so that the car seat can work properly in a crash. Safe Kids Maine conducts a variety of free public events statewide in partnership with hospitals, fire departments, police departments, and other agencies and organizations. Our Safety Van is fully equipped to conduct a car seat inspection event in any city or town in Maine!   
Our Car Seat Inspection Stations are open year-round inside heated buildings where your vehicle is brought inside and out of the weather. All Safe Kids Maine Car Seat Inspection Stations are staffed by Certified Child Passenger Safety Technicians. Please bring your car seat's instruction manual and the vehicle owner's manual, if available. Why should you have your car seat inspected?
Appointments are not required but they are strongly recommended! Having an appointment guarantees your spot, shortens your wait time, and allows us to prepare for your arrival! Arriving at an event without an appointment risks the possibility that we might not be able to fit you in if we have a full appointment schedule or you may be subjected to a long wait time. Schedule your appointment today!

To schedule an appointment, please click here.
Dates and Times of Car Seat Safety Checks



Saturday, February 1st at 9 am - 11 am

Saturday, March 7th at 9 am -11 am

Saturday, April 4th at 9 am - 11 am

Saturday, May 2nd at 9 am - 11 am

Saturday, June 6th at 9 am - 11 am

Saturday, August 1st at 9 am - 11 am